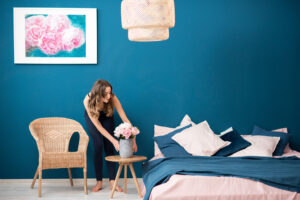 We've briefly mentioned how we prepare a home for sale, making sure it looks its best when showcased on physical ads and flyers or online. In today's blog, Bill Swanson and The Swanson Group discuss how we help home buyers and sellers in Omaha, NE, including staging a house and taking professional photographs.
Staging Your Place
Our team will bring in a professional stager to take a look at your place and arrange furniture and decorations to showcase your home in its best possible light. In addition, we have educational videos on our website to help you with this process too. These videos will help with deciding what to remove from the home, and what to keep to help people see the potential your house can offer. After all, people need to see potential, so instead of seeing your home, they see what their place could be. The process of arranging your place usually takes about two hours, and is included in our services! There is a reason we have won so many awards for our services, as we know how to help your home sell and obtain the most value possible!
Taking Professional Photographs
We also need pictures to show your home in physical flyers, online and paper ads, and listings on dozens of different realty websites. Which means we won't settle for a few pics snapped with your iPhone. Instead, we will bring in a professional photographer, someone who knows how to take pictures that look great and give potential buyers a real idea of the space and potential your place can offer. Between the stager and these images, we can really help people see your place for all its potential!
Arranging Tours
The first impression your place receives will likely be on a realty website, which is why we're so adamant about professional pictures and staging. But eventually, people will want to see it in erosion too. We will work with you to make this process simple and headache free, with real estate lockboxes, and plenty of warning about people coming by to see the house. After all, we're working with you, and we want you or feel comfortable throughout the selling process.
If you have any questions about our services or about prepping your house for a sale, then contact our team today to learn more. We want to help make selling your house a breeze.
Your Omaha, NE Real Estate Team is Your Realtor for Life
We would like to help you sell your place in a quick and headache free process, one that lands a fair price for your family. If you want to find out more about showcasing your house in its best possible light, then please call our Omaha, NE real estate group today at 402-679-6566.