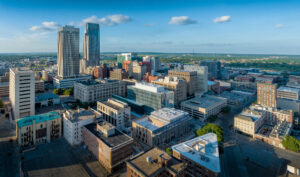 Do you want to find a home or property in the Omaha, NE, area? Then you should talk to our team! Bill Swanson and The Swanson Group know the re well, and we can help you locate a new home in the area of Omaha that works best for you and your family.
Your Home Criteria
First, we would like to talk to you about your home, and what your criteria is. What are you looking for? What does your house need? Once we have this settled, we can provide a link to a special app, one that lets you monitor houses as brokers input them directly. This means no longer waiting for them to hit sites like Realtor and crossing your fingers someone hasn't snatched them up already. Sometimes, the search can be overwhelming. To help shorten it and make finding a home that really works for you easier, we often suggest the 80-10-10 strategy. Essentially, find a home with 80% of what you want. The house should also have 10% of what you like, but could easily change as your tastes evolve, such as paint and trim. Finally, consider the 10% of what you would have liked, but could live without. This helps make the entire process much less daunting!
Starting the Search
We know the Omaha area well, and as part of you criteria discussion we'll talk about what's important to your family. Do you want to be in a certain school district, or walking distance from a park? Do you want to be in a quiet neighborhood, or is being near nightlife and entertainment a must? We take all of this into account as we start the property search with you, and can help you find homes that not only fit your lifestyle, but also reside in the perfect neighborhood for you or your family.
Making an Offer
What happens when you find a house you like? Well, then we help you make an offer! We can discuss strategies to help improve your chances of being selected and having your offer acceded. We know the market is caging and finding a house can be difficult, with lots of competition. That's why working with a skilled and experienced team, like ours is so vital!
If you have any questions about how to find a place that works for you, then contact our team today to learn more. Let's find your house!
Your Omaha, NE Real Estate Team Is Ready for a Property Search
Our team wants to you find the perfect place in your community. If you want to find out more about finding a house in our community, then please call our Omaha, NE real estate group today at 402-679-6566.