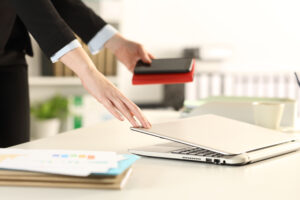 You've found your house. You've put in an offer and good news, it was accepted! Now what? Now it's time for closing day, the last items to check off before you start moving in and making this house your home. In today's blog, Bill Swanson and The Swanson Group of Omaha, NE, talk about the closing day process.
What You Need
When a deal is agreed upon, you will need to bring your earnest deposit to the title company within 48 hours of the seller's acceptance. If there are any inspections in the contract, these will be ordered. Your lender will begin processing your contract and you will select your rate. The lender may or may not order an appraisal, and you may need to pay a fee at this point. On your end, you will need to set up homeowners' insurance and call utility companies to transfer services on closing day. Don't worry, we will be with you every step, so you'll never be confused or unsure of what happens next!
What the Seller Will Complete
As closing day approaches, a final walkthrough of the property will occur. This is a time for you to make sure the seller has completed any ordered repairs or inspections, and that the home is in the same shape as when you made an offer. Once this process is done, it's time for the big day!
Moving In and Moving On!
On the big day, your lender will provide the exact amount needed to purchase the home, and those funds can be wired or brought in the form of a cashier's check. The entire process on the last day could take between 15 minutes and an hour. You will sign the last bit of paperwork and receive your keys. Now, the house is yours! You can begin moving in, and starting an exciting new stage of your life. You won't be alone however, our team will check in on you from time to time in a method you prefer, like a phone call or email. If you need any assistances with contractors, or if you decide to sell in the future, we'll always be here to help you. We mean it when we say we're your realtors for life, and we look forward to helping you settle into a new home, and offering any assistance you need in the future.
Your Omaha, NE Real Estate Team Wants to Find Your Next Home
From the first step of the buying process to the last, our team is there to help. You don't have to struggle or go through it alone. Whether you're buying or selling, let us know. If you want to find out more about closing day, then please call our Omaha, NE real estate group today at 402-679-6566.