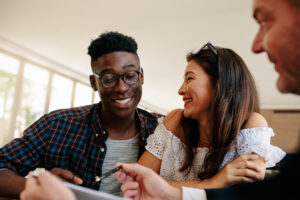 In our previous blog, we looked at how our team can help you find a house, using strategy like our 80-10-10 system. But what happens once you find a house? In today's blog, Bill Swanson and The Swanson Group in Omaha, NE, talks about what happens once you find a house that's interested, and how we can help you put in an offer.
Finding the Right House
Our team will work with you to find the criteria of your future home, so we know what to look for. With the 80-10-10 strategy, we can make this process shorter, so you can move on to the next stage of your life that much faster. This means finding a home with 80% of what you want, 10% of what you like but could change as your tastes evolve or trends change, such as paint and trim. Finally, this should have 10% of you would have liked, but could live without. We then offer an app in which brokers add new homes as soon as they hit the market, so you have a chance to snatch up your dream home before it hits popular sites like Realtor.com.
Talking to the Seller
Once you find the house of your dreams, the time has come to put in an offer. We will run comparable sales in the community, and look at national trends, to ensure you can put in a competitive offer that gives you a real shot at securing your new house. Our team will then discuss earnest deposit amounts, whether you or the seller will cover closing costs, and create your and acknowledged review of the seller's property-related disclosures. We also discuss tips about improving your chances, such as taking on closing costs or writing a personalized letter pleading your case.
What Happens Next?
Next, you will wait for the response. It could come back as accepted, rejected, or with a counter-offer. From there, we will work with you to decide your next move. Once the negotiations have ended and your offer is accepted, then we will begin the process of closing. If you have any questions about the process of purchasing a home in Omaha, NE, then contact our team today to learn more. We want to help you find the property that is right for you and your family!
Your Omaha, NE Real Estate Team is Ready to Help!
We would like to help you find the right home and put in a fair offer, so you can plan your move and start an exciting new phase of your life. If you want to find out more the process of putting in an offer, then please call our Omaha, NE real estate group today at 402-679-6566.