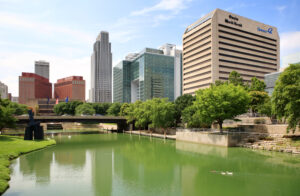 Bill Swanson and The Swanson Group love helping people find their new home in Omaha, NE. We know the housing market in this area like the back of our hand, but we also genuinely love this city and think it's a great place to raise a family! In today's blog, we're looking at reasons to consider this city as your next home.
Reasons to Relocate
When looking for a new place to relocate, you may have overlooked Nebraska. But this state, especially Omaha, has so much to offer families and individuals, whether you need a change of scenery or are relocating for a new job. Omaha is the 42nd largest city in the United States, and the metro area has just under a million people. Which means you get the amenities of a large city, with a more relaxed and smaller feel. The cost of living is lower than most cities, and Omaha has been ranked as one of the best places in the United States to raise a family. Not to mention the delicious food, the Durham Museum, Doorly Zoo and Aquarium, and educational opportunities for people of all ages. Don't believe us? Then feel free to Google the city! You'll be surprised by everything we have to offer.
We Know The Housing Marketing
So, now you're connived. But how do you find the right place in the city? We know the housing market here very well, and we can help you find the best area of the city to relocate to, the one that best suits your needs or your family's. We can choose an area close to entertainment and activities, near good schools, or just in a corner of the city that laid is back and relaxed. We will talk to you about your criteria, and help you find the right house.
Finding Your Next Home or Property
First, we will give you a link to a special app in which brokers input homes as soon as they hit the market. You won't have to scour Realtor or Trulia and hope you've beat someone to the punch. We also use the 80-10-10 strategy to help you parse the results and find the place that fits you best. This is essentially finding one with 80% of what you want, 10% of what you like but could easily change in the future, and 10% of what you would like but could live without. If you have any questions, then give us a call today!
Your Omaha, NE Real Estate Team is Ready to Help!
Whether you're buying or selling in the area, we can help you. If you want to find out more about choosing your next home, then please call our Omaha, NE real estate group today at 402-679-6566.