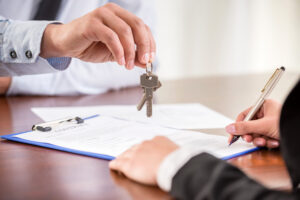 The day every future homeowner looks forward to is closing day. This is when you receive the keys, and start your new stage of life as a homeowner. But what happens on closing day? In today's blog, Bill Swanson and The Swanson Group discuss how we help future homeowners in Omaha, NE.
The Settlement Process
The settlement process is all of the steps between the seller accepting your offer and when you receive your keys on closing day. At this stage, you will give your title company your earnest deposit within 48 hours of acceptance, unless agreed otherwise in writing. Inspections will then be requested, and your lender will begin processing the contract. You choose your rate, and your lender may also request an appraisal, and or from you, an appraisal fee. You should have your homeowner's insurance set up at this stage, and begin transferring utility services to the house. Finally, a walk through will occur to ensure the house is in proper condition, and that requested repairs have been made. You may need to confirm this as part of the inspection contingency. This may seem like a lot, but remember that we'll be there to keep you apprised and make sure everything is done properly.
Closing Day!
The big day finally arrives! On closing day, your lender will provide you with the exact amount of money you need to purchase the house. You should bring this with you in a cashier's check before signing your papers. The process takes between 15 minutes or up to an hour to finish. Once all the paperwork is finally completed and signed, you will receive the keys! Now, you start moving in, setting up your new home, and finally enjoying that the purchasing process is over.
Help Down the Road
Your agent won't forget about you though! In fact, we urge you to call us if anything comes up with your house. For example, if something needs to be repaired or updated, we can connect you with trustworthy and experienced contractors in the area. We will also reach via phone or email, depending on your preference, just to see how things are going. If you ever decide you need to upgrade and sell, we can help you! If you have any questions about working with The Swanson Group to find your perfect home in Omaha, NE, then contact our team today to learn more.
Our Omaha, NE Real Estate Team Wants to Find Your place
We want to be there through every step of your house purchase, from finding your place to closing day. If you want to find out more about what happens on closing day, then please call our Omaha, NE real estate group today at 402-679-6566.