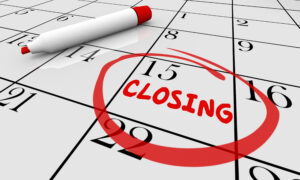 When you've found your home and your offer has been accepted, what happens next? At this stage, you're ready for closing! In today's blog, Bill Swanson and The Swanson Group discuss what their Omaha, NE, clients can expect from the closing process, and how we continue to help even after you've closed on your new house!
The Process
Once everyone is in agreement, your earnest deposit is given to the title company within 48 hours, unless something else is approved in writing. If there are inspections in your contract, they will be ordered and completed, and we will let you what is happening during each step of the process. You'll never be in the dark! Next, the lender processes the contract and you choose your rate. The lender will also order an appraisal and you may need to pay a fee for this. Your homeowner's insurance should be arranged as well, and all utility turn-ons and transfers should be done on closing day.
Getting Your Keys
The time for a final walkthrough has arrived! You can make sure the home is in the same condition you expect, and that any ordered repairs have been made. Your lender then gives you the amount of money needed for the home, and you will wire the funds to the bank or bring them in the form of a cashier's check. At this point, you sign the closing papers and receive your keys! The entire closing day process could take as little as 15 minutes or up to an hour.
Constant Contact
Now, you're an Omaha homeowner! But don't worry, we're not abandoning you. We will be checking in, and you can always ask us for copies of paperwork or even referrals for trusted contractors if your house needs any work. We'll also check in to make sure everything is going smoothly. If you decide to sell later, then we'll still be here. When we say constant contact, and realtors for life, we mean it. In fact, we often work with our clients several times as we strive to make the process simple and headache free. If you have any questions about buying or selling a home, or if you would like to find something for you and your family in the Omaha, NE, area, then contact our team.
Our Omaha, NE Real Estate Team is Here on Closing Day
Whether you're here to buy or sell a home, we can help you through the entire process and beyond. If you want to find out more about working with our team, then please call our Omaha, NE real estate group today at 402-679-6566. We serve people in Omaha and surrounding communities, and are eager to meet you and start your journey!