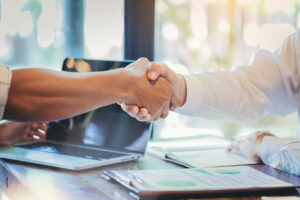 In our last blog, we looked in detail about how we help you find a home. But once you find a house that meets your criteria, what happens next? In today's blog, Bill Swanson and The Swanson Group discuss how we help you reach an agreement with a seller, and boost your chances of getting the home you want.
Finding Your Home
We use a number of strategies to help you find the right place for you and your family. Once we have found the right house for you and you're interested in making an offer, we will look at previous sales in the area to help you make a competitive offer. This is also a time to talk about what comes next, schuh as closing dates, inspections, your earnest deposit amounts, and other parts of the home buying process. We can find out if the seller will pay closing costs, and you will send your acknowledged review of the property disclosures.
Talking to the Seller
When we prepare your offer, we will also include an approval letter from a lender, or possibly a letter from your bank with "proof of funds" if you're going to pay cash. We could also discuss tips for improving your chances, such as a higher earnest deposit amount, closing date flexibility, or even a personal letter talking about your experience and current situation, all of which helps you stand out from other offers. The seller will then respond, with an acceptance, a rejection, or a counteroffer. You will then, with our help, negotiate for an acceptable offer.
What About Closing?
When the seller accepts, you are that much closer to your new home! You will turn over your earnest deposit amount in 48 hours of acceptance. Any ordered inspections will be conducted, and we will continue to keep you informed as closing day draws nearer and nearer, and you can finally move into your new home. If you have any questions about how we help you find a new house in the Omaha, NE, area, or about selling a home or working with a contractor, we can help. In fact, we're here as your realtors for life, ready to assist with anything that comes up in the future.
Our Omaha, NE Real Estate Team is Here to Help
We're ready to help reach an agreement with a seller that is fair to you and helps you find the right house for you and your family. If you want to find out more about our process and constant contact approach, then please call our Omaha, NE real estate group today at 402-679-6566. We serve people in Omaha and surrounding communities, and are eager to meet you and start your journey!