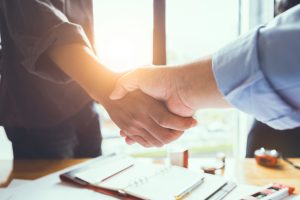 Bill Swanson and The Swanson Group want to help you with each and every step of the home buying process. We can help you list a property, and look for one that meets your criteria. When that happens how do you reach an agreement with a seller and close? In today's blog, we're going to talk about this process.
Choosing Your Home
Finding a home can be an intimidating process. Especially since many of the listings you find on popular sites like Zillow or Realtor are already in the process of being purchased by the time you find them. We know, which is why when you work with us, we set you up with an app that shows houses as soon as they hit the market, so we can find what you're looking for much quicker. We also suggest the 80-10-10 rule, in which a home has 80% of what you want, 10% of what you like but could easily change, such as paint and fixtures, and 10% of what you would like but could live without. Using this and our resources, we will help you find the right property for you and your family.
The Seller Agreement
When you finally find the house that's right for you, we will look at similar sales and help you prepare the best offer. Our team will also walk you through the closing date, earnest deposit amounts, inspections and other aspects of this process. You'll never go through this alone. We also help with the approval letter from your lender, and with tips on improving your chances of obtaining the house from the seller.
Closing on Your New Home  
Once an agreement is reached with the seller, we then start working with you on the closing process. We would love to welcome you to the Omaha area with a house that suits your needs, and to get started you simply just give us a call at the number below. We know that buying and selling a home is often a headache, but we want to make the process a smooth and enjoyable one, and we want you to know that we're available to help even after closing, and will likely be checking in on you to make sure the house is working out.
If you have any questions, then give us a call today!
Our Omaha, NE Real Estate Team Is Ready to Help
We would like to help you throughout the entire process of purchasing a new property. For more information on selecting the best home for your family, then please call our Omaha, NE real estate group today at 402-679-6566. We serve people in Omaha and surrounding communities, and are eager to meet you and start your journey!