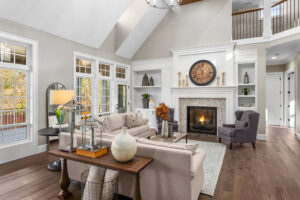 Do you need to sell your current house? Whether you're moving out of the area or looking to find a better fit for your growing family, we can help! Bill Swanson and The Swanson Group have experience in helping residents of Omaha, NE, and surrounding communities sell their homes for a fair price, taking the headaches out of the process.
The First Steps
The first step is a meeting with a member of our team. We want to take a look at your home and get to know you a little better. When we view your place, we would love for you to show us your favorite things about it, and also let us know about any updates or remodeling you've completed since living there.
Choosing a Listing Price
Now is a great time to sell a home and get the most value for your house. To help you find a price that is fair for you and makes it competitive on the market, we will complete a detailed analysis of your building. Part of this involves a 15-step marketing plan to help choose the optimal list price, one that fits your goals. We look at comparable sales in your area to help determine the best value.
Staging Your Place
We will feature your home in online listings, physical flyers, ads, and more. Which means we want to show your house in the best possible light. We have several videos you can watch to offer tips on showcasing your place in the best possible light. We also have a professional stager who can meet with you and help stage it properly. We've even won awards for our services in staging and preparing homes for sale. We then take professional photos of your house, which will be used in your ads. We also implement a "coming soon" approach so people in your neighborhood know your house is hitting the market soon. We could also discuss options like delayed exposure, immediate exposure, or a plan in between. We will also be able to tailor our strategies to fit your needs.
If you have any questions about preparing your house for sale, or if you're ready to sell and don't want to handle this alone, then contact our team today! We look forward to working with you and being your realtors for life.
Our Omaha, NE Real Estate Team Is Here for You
We would like to help you get the best price for your home, and to help you find a new place too. If you want to get started on selling your place, then please call our Omaha, NE real estate group today at 402-679-6566. We serve people in Omaha and surrounding communities, and are eager to meet you and start your journey!