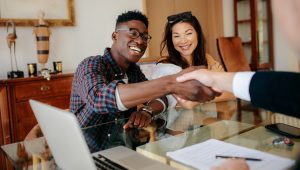 In our last blog, Bill Swanson and the The Swanson Group discussed how we work with you and your family to help you find the right house, one that meets your needs and is worthy of your investment. But once you find the right house, what happens next? How do you reach an agreement with the seller?
Helping You Choose the Right House
The first step is knowing exactly what you and your family will need. To do this, we will sit down with you to look at your must-haves, and also take into account factors like proximity to work and school. We take advantage of tons of resources that let us find great homes as soon as they enter the market, and can offer physical and virtual tours to help you decide which best suits your needs! Once we do, now we need to put in an offer and meet an agreement with the seller.
Reaching an Agreement
We want to make sure you not only get the best deal for your budget, but that you also understand each step of the process. To make an offer, we will look at comparable sales, then come up with a reasonable offer for the seller. Next, we will discuss the next steps, including closing dates, your inspections, the earnest deposit amounts, and what closing costs, if any, will be covered by the seller. Our team will also provide your acknowledged review of the property disclosure.
Don't Go It Alone
This process can be confusing and overwhelming to many, which is why we urge you not to try and go it alone. Instead, work with a team of experienced experts, who want to help you through each step, saving you time and headache. Our team knows how to help you obtain and complete necessary paperwork, and also handle a situation in which there are multiple bidders. Our experts know how to help you craft a letter to tell your story and make your case as to why the home should be yours! We know finding the right home is an intimidating process, and we want to help you and your family through the entire process, start to finish. If you have any questions or concerns, we urge to give us a call or send us an email! We look forward to hearing from you!
Let The Swanson Group in Omaha, NE Assist with the Home Buying Process
Bill Swanson and the members of The Swanson Group are ready to walk you through the entire process of choosing and buying a home. To learn more about the various resources available at The Swanson Group, or to begin your search, contact the Omaha, NE office at 402-679-6566.