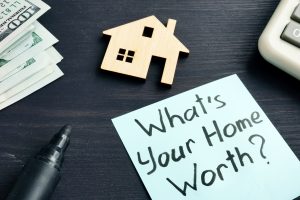 The value of your home consists of many different aspects. There is the value that comes from the utility of your home: you have a place to sleep and enjoy your lifestyle. There is the emotional value that comes from your home: you'll create memories in this space that last a lifetime. There's also the raw, monetary value of your home, and that piece is key. Residential properties are assets that typically mature at a steady rate. To ensure that this happens, and to understand the value that you can expect your home to have when it hits the market, there are steps that you can take as a homeowner.
How Can You Determine the Current Value of Your Home?
Obviously, you know what you paid for your home, and the value of the home mortgage that you secured. That was the value of the home when you purchased it. To understand the current value of your home, you need to investigate your housing market. What are homes of a similar square footage selling for in your neighborhood? Also research how long those homes are on the market before selling at that price. If a comparable, newly listed home sells in a week, you may be able to ask for a higher price. You should also determine if there are any specific features that these homes have that may help or hinder their sale price.
How Can You Maintain the Value of Your Home Over Time?
The value of your home will almost certainly appreciate in the long-term, but there are still steps you can take to influence the degree to which it appreciates. Maintaining your home's value is largely about maintaining your home. Keeping up with minor repairs can prevent more costly issues from arising. It will also ensure that when you do decide to sell, you aren't hit with a mountain of costs. If you determine that you need to redo the entire kitchen before your home hits the market, you'll be in for a lengthy project timeline, and a high project cost.
Consider the Effect of Repairs and Remodels Before Moving Forward
One way that homeowners may try to increase the value of their home is by remodeling it, or taking on a redesign of a particular space. This can increase the value of your home, but you'll want to be sure that the cost of the project doesn't outpace the return on investment. If you're planning on keeping your current home for a few years, this type of project may be worthwhile. The value you get out of a home remodel will come in the form of your home's sale price, but also the utility you get from the remodel on a day-to-day basis. You should ask yourself whether or not the remodel project is something you want for your home before proceeding.
Maximize Your Home Returns with The Swanson Real Estate Group
If you're new to the home selling process, you want to be sure that you get the biggest return possible for your property. There are all kinds of small steps that you can take to ensure this happens. Working with the professionals at The Swanson Real Estate Group is one of them! We can work with you to sell your home efficiently, for a great price. Learn more about selling your home with The Swanson Real Estate Group by contacting our Omaha, NE office at 402-679-6566.