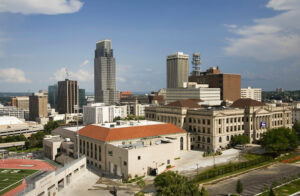 If you and your family have decided to make a change, know that you have made an excellent decision. While we might be a little bit biased, we are huge fans of the city of Omaha. There are exciting things happening here, as the population is rising. People from all over are recognizing the value of a gorgeous mid-sized city in the heart of the country. You can find a place to call your own here in Eastern Nebraska!
With our team of trusted helpful real estate agents at The Swanson Group in Omaha, NE, rest easy knowing that you have a truly local guide. Our staff has years of experience in the metro area, and above all, we call this city our home. Moving to a new city is never the easiest decision, but you can take positive steps in making the change a little bit easier. Set aside some time for an appointment and learn about all of our special neighborhoods so that you have an understanding of where your family might fit best. From Downtown to Dundee, Omaha has a spot that is right for you and your family!
Find The Right Place To Plant Your Flag
When it is time to move your household for work or family, going at it alone can be a disaster. Even with all of the online resources available these days, you cannot truly get a feeling for the neighborhood without spending some quality time there. If you are looking to buy a new home, make an effort in hearing from actual Omaha residents about each part of town. Every part of our city has its own unique set of advantages, and it is important to find your fit. From urban walkability to a more spacious house in the suburbs, there is a place for you, so talk to someone who understands the landscape.
Interested In New Construction? We Can Help!
If your family is looking to design and build your own new dream home, our agents can help you to turn your idea into a reality. Every neighborhood (and subdivision) has its own set of rules in regard to new construction, so working alongside our team can give you the tools you need to be successful in this process. When you make the wrong move, it can set you back in the designs and build of your new project. Avoid costly delays by understanding your options at every step along the way.
Find Your Special Place With The Swanson Group
Looking to make a change? When you move to Omaha, make sure that you have a team of quality real estate agents to help you make the right decisions. Learn more by calling us at The Swanson Group Real Estate at (402)679-6566!