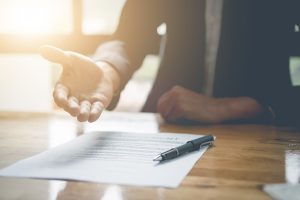 You've staged and prepared your home. You've listed it and finally the offers are coming in. So, now what? At this stage, Bill Swanson and The Swanson Group will help you choose the best offer and continue with the closing process! By being there through each step, we take the headache out of selling a house or property.
Accepting the Right Offer
You may receive one or multiple offers, and we will discuss each and every one with you, answering any questions you may have. When possible, we like to have people present their offer to you in person, as we find that being face-to-face and discussing options leads to a better outcome for all involved. There will be preapproval letters and proof of funds provided, and when you accept the best offer for your family, we move forward with the inspection process. You will stay apprised of each step of this process, as you approach finishing the sale of your home!
The Closing Process
Now for the exciting part: closing! This means the process is coming to an end, and you can move forward with the next step in your life. When possible, we like to collect the check for the buyer and bring it directly to you after the house closes. But don't worry, that doesn't mean we're no longer available to help you. The Swanson Group likes to stay in contact with in the coming months to see how things are going, and offer help should you need to purchase a new home or sell another property.
We're Here If/When You're Ready to Sell Again!
A big part of our award-winning service is staying in contact. We know that through each major step in your life, there is likely to be a move. You may need to sell a home and buy a new one. Why try to find a new realtor, when we've been in contact with you since you sold your house? We're ready to help you, and answer any questions or address any concerns you may have. Our team can help you find a new home and put in an offer, walking through the buying process just as we did through the selling one. If you have any questions, or would like to learn more about our award-winning service and our process, then don't hesitate to give us a call today.
Our Omaha, NE Real Estate Team Wants to Make the Process Simple
Through each and every step of the process, we're here with advice and experience to make it simple. For more information on selling a house or property, then please call our Omaha, NE real estate group today at 402-679-6566. We serve people in Omaha and surrounding communities, and are eager to meet you and start your journey!