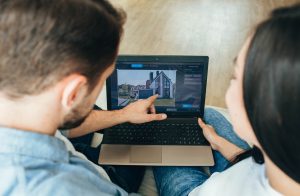 Searching for a new home takes time and effort. You may start to casually look for new neighborhoods and home options a year in advance, or you may find that you need to make your home buying decision rather quickly. There are steps you can take to make the search more efficient. A protracted home search with bumps in the road can get frustrating and stressful. You deserve to feel good about your home purchase. Take the measures that you can to make life easier for yourself. Here are some of the keys to simplifying your home search.
Know What You Want from Your Home
Knowing what you want from your home will help you shave down the field of options tremendously. Knowing what you want is more specific than just "a big backyard," or "three bedrooms." How many square feet do you need in a backyard? Are you using one of the bedrooms as a home office, and does it need to be on the first or second level of the home? What do you want your home to do for you? Make a home buying checklist, and be thoughtful about which items are wants, and which ones are needs.
Understand the Market in Which You're Buying
In addition to knowing what you want from your home, you also need to understand the market in which you are buying. Are basements common in your housing market? What's the price range for a moderately sized single-family home? Knowing these things will help you create realistic expectations about what you can find and what you can afford in your market. Plus, you also want to have a sense of how quickly homes are moving. How long are homes on the market? Are homebuyers typically offering over the asking price?
Start the Mortgage Pre Approval Process
One of the most important and helpful steps that you can take when simplifying your home search is to start your mortgage pre approval process. You will want to be preapproved for a mortgage to make it easier to buy when the time is right. In addition to ease during the buying process, the pre approval process can also shed some light on what your budget will be. Knowing your budget range will prevent you from falling in love with a home that you can't afford, and it can help you decide on factors like neighborhood and home size.
Simplify Your Home Search by Working with a Professional
Bill Swanson and the team at The Swanson Group are ready to make your home search simple. Bill has decades of experience in the real estate business, and he's an Omaha native, so he can help you find the home that meets your location, lifestyle, and budgetary needs. Don't get bogged down by your home search. Trust someone who knows where to start, and how to move through the process comfortably. Start working with The Swanson Group in Omaha, NE to find your perfect home by contacting the office at 402-679-6566.