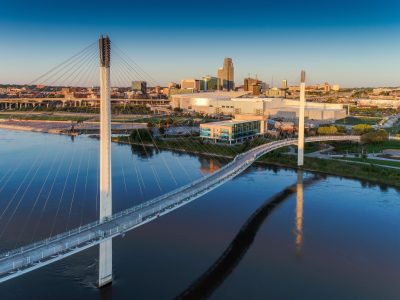 Finding the perfect home is often a matter of finding the perfect location. While you may want certain attributes as part of your house, you're not just investing in a building. You're investing in your own lifestyle. You want to make sure that your house and the neighborhood it's in match your needs. Do you need top-quality schools nearby? Is walkability to restaurants and shops a priority? Are public amenities like parks and playgrounds a priority? The Omaha metro area has so much to offer families of all sizes. Before you begin your home search in the Omaha area, it's important to know what's around you.
A Downtown District: Old Market
If entertainment and dining are priorities for you, then the Old Market is a great area to search for a place to call your own. The Old Market is an historic district that has been transformed into a hub for nightlife and shopping. This part of downtown features plenty to do on both a daily and nightly basis.
Craft Breweries and Delicious Dining in the Blackstone District
The original Reuben sandwich hails from a restaurant called "Crescent Moon," located in the Blackstone District. Farnam House Brewing and Scriptown offer local craft beer and a unique experience. You can also find craft cocktails, a trendy Mexican food restaurant (Mula), and NY-style pizza in the area.
North Omaha Home to the Historic Florence Mill
Historic acknowledgements of the Mormon migration of the 1800's color North Omaha, along with a tribute to civil rights leader, Malcom X. Love's Jazz and Arts Center showcases all kinds of African American art. The Florence Mill, constructed in 1846, still operates today as a museum, art gallery, and Sunday farmer's market.
South Omaha
Folk art, pottery shops, and family-owned restaurants are all staples of South Omaha. This vibrant district is home to many cultural histories. You'll find food, festivals, and beautiful scenery across this part of Omaha. It all starts with The Tree of Life that welcomes you to the neighborhood.
Enjoy the Outdoors at Askarben Village
If you enjoy getting outside and taking in the fresh air, Askarben Village is an entertainment district well-suited to your tastes. Stinson Park and great outdoor dining options are all over Askarben Village. Walkability is a major asset in this area.
Start the Search for Your Omaha Home with Bill Swanson
Knowing what you want out of your neighborhood is key when choosing a home. If you find a district that you absolutely love, you'll want to be nearby for easy access. Bill Swanson can connect you with the right home in the right area. He's been helping families buy and sell homes in Omaha for over 25 years. Whether you're just beginning to look for your first home, or you're a veteran of the homebuying process, Bill can help. Start working with Bill Swanson to find your ideal Omaha, NE home by contacting his office at 402-679-6566.