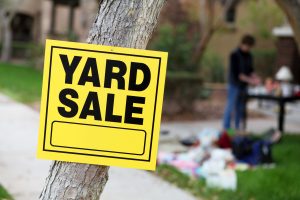 The process of moving out of a home can be difficult even before you start looking at trying to sell the property. People who are in the same space over the years can be shocked at just how much they have accumulated since they arrived, which can make packing difficult. One thing you can do to make this process easier is host a yard sale before you move. In addition to helping you raise funds, this is a good way to declutter your home, which will help you take attractive photos for your online property listings. As you approach your move-out date, know that our Omaha, NE real estate group is prepared to help you secure a successful sale of your property, and that we can also help you find and purchase your new home!
Clear Out Unwanted Items Before You Start Packing
While much of what you have in your home will go with you, a survey of your belongings can reveal that not everything you have is worth retaining. Rather than simply throwing away what you have, make an effort to set aside items that you could put out for a yard sale. This reduces waste, it makes you feel less guilty about letting go of so much, and it can be a good way to make extra cash that can go toward moving costs.
Decluttering Can Help You Make Rooms Picture-Worthy
Empty rooms help show off how much space you have in your home, but images of furnished rooms help show off what people can do with your property. When taking pictures to use in your listings, focus on decluttering furnished spaces to make images as enticing as possible. When you host a yard sale before taking pictures, you make sure that less desirable items taking up space are removed already, and will not need to be dealt with as you stage rooms for their pictures.
The Right Agent Can Help You Find A Buyer And Leave Your Old Home Behind!
The yard sale is a smart early step to take if you are looking to sell your home, but it is just one of many things you may need to do before you put yours on the market. With an experienced real estate agent, you can navigate the different challenges of selling more easily! We can help you figure out what you need to do to make sure that buyers see your listing, and that you receive the right offer. We can also help you if you are looking to buy a new home in the Omaha area!
Bill Swanson Can Take Care Of Your Omaha, NE Home Buying And Selling Needs
With the right early steps, you can avoid the stress that people often feel when they look into selling their home! To find out more about how Bill Swanson and our team can help you, call our Omaha, NE real estate group at 402-679-6566.