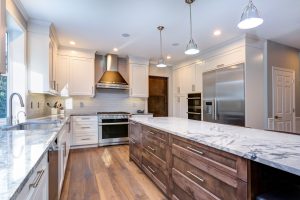 You can feel confident upon creating a listing for your home that there will be plenty of the demand. After all, you are well aware of what makes the property so appealing after spending time there! While it is important to feel confident that a house will take great care of the next family to move in, you should also be prepared to make the listing as appealing as possible. One way to do this is to make sure the photos you take of your home make it as visually appealing as possible. Our real estate group has a great deal of knowledge about properties and sales in and around Omaha, NE, and we know what issues sellers can face when they are ready to put their home on the market. We can help you make the most appealing possible listing, and we can see you through the rest of the process of selling your house!
The Right Images Can Motivate People To Learn More About Your Home
Visually striking images of your home's interior and exterior can motivate buyers to spend more time reviewing your listing. While descriptions and details help, photographs help someone imagine their life in your current space. With that in mind, you should take some time to consider what you can do to capture your space's most flattering qualities.
Preparing Your Spaces For Pictures
While you can benefit from keeping furniture in rooms being photographed, take the time to declutter spaces as much as possible. This task does not stop at simply cleaning up. You should minimize the amount of objects sitting on shelves or tables before taking pictures as well, and pare rooms down to their necessities. It can also be a good idea to replace older, worn items in order to make the space particularly appealing. So why not take everything out and make a room look as spacious as possible? With your furniture, you can give areas a sense of being lived in, and help people see how everything can be styled.
Should You Hire A Professional To Take Photos Of Your Home?
With a professional on hand to take photos of your home, you can count on an assortment of shots that show off the space of different rooms, and their features. Because many of us have relatively high-end cameras included in our phones, many people feel that they can capture quality images without help. Remember that your listing will not be the only one someone sees. Having superior images gives you an easy way to make the strongest first impression possible!
Talk To Bill Swanson If You Are Ready To Sell Your Omaha, NE Home!
The Swanson Group has helped many people in and around Omaha, NE with their efforts to sell their home. In addition to supporting people ready to sell, we support prospective buyers, and even offer guidance when it comes to finding a mortgage for a property. To find out more, call our Omaha, NE real estate group at 402-679-6566.