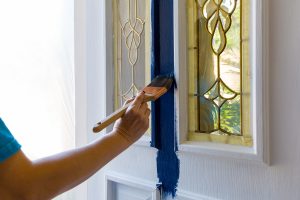 If you want to put your home on the market, or just feel it is due for some changes, you may hesitate to move forward because you worry about the time and cost of different projects. Homeowners who want to make improvements sometimes fixate on making changes that call for contractors or other professionals, while ignoring more manageable improvements. What you should know is that some projects that demand relatively little money or effort can lead to meaningful changes. With the right weekend projects, you can keep you busy and help you raise the quality of your home! These tasks can be particularly useful for helping to set your home apart from similar properties already on the market. Our Omaha, NE real estate group can help you find more ways to help your property stand out, and we can help attract interested buyers so that you can complete your sale!
1. Give Your Front Door A New Coat Of Paint
One of the first features of your home people will see up close is the front door. Carving out a Saturday or Sunday to give the door a new coat of paint can add a splash of color that boosts your property's curb appeal. This change can be particularly beneficial if the door currently looks faded or worn. Even if you are not looking to make a bold change, refreshing the color can add to the attractiveness of your home's front.
2. Add Floating Shelves To Create More Storage Space
The addition of floating shelves in the kitchen or bathroom can make room for items that you have accumulated over time. After finding the right shelves for a room, you can take the time to set them up yourself and have a stylish new storage setup! In addition to offering a functional benefit, your floating shelves can fill in a wall that currently seems bare. If you prefer, you can add decorative items to them to further improve the look of a room.
3. Replace Your Old Switchplates
Stylish new switchplates can add to the look of a room. You can choose plates of different colors and materials to fit in with their surrounding walls, or pick up new ones to make a space seem fresher. Even if this relatively small change is hard for people to notice and point out, but it can increase the overall quality of a space and make it feel more attractive.
Our Omaha, NE Real Estate Group Can Help With Buying And Selling Concerns
The Swanson Group's knowledge of, and experience with the Omaha, NE community helps us serve people looking to buy and sell homes in the area. If you are looking to make any decisions on buying or selling a property, please call our Omaha, NE real estate group at 402-679-6566.