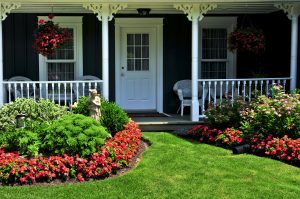 Curb appeal is important for more than just people ready to sell their home. The right care for your yard, along with projects to restore the front of your house, make a great first impression on visitors and those passing by. If you are thinking about selling, or if you already have your property on the market, consider taking on landscape projects to make your space attractive to people before they even set foot inside. The "right" project for someone's front yard can vary. For some, the addition of bright, colorful flowers can help beautify an already attractive exterior. Others can find that they benefit from focusing on work to clean up the plants they already have. Our Omaha, NE real estate team can help you look for the right projects to raise your home price, just as we can help interested buyers find great properties in the area.
The Right Garden Features Can Help Your Home Make A Good First Impression
First impressions matter when it comes to selling a home. With the right garden features, you can pique someone's interest before they have even taken a look at your interiors. Landscaping work can also make your home picture-ready, which means you can make a better case for your property online. You can take time to introduce a variety of colorful plants to add vibrancy to your exterior, or make your space seem cleaner and larger by trimming down trees and bushes that should be scaled back.
Take Time To Plan Your Landscaping Projects
While landscaping work can be beneficial, take time to think about what a project might do for your property before you commit to it. If you already have a full garden, adding more plants could make the space look messy and unkempt. Sometimes, the right project is the one that takes away plants, or simply shapes up what you have. Of course, any plans should include efforts to ensure your yard area appears healthy and freshly manicured.
Other Projects That Can Boost Your Home's Curb Appeal
To make your home stand out, you should be prepared to take on different projects out of the house. A new coat of paint for your front door, window treatments, and recently-cleaned gutters can ensure people see the property as well-maintained. You should also take on smaller projects like cleaning your walkway and walls, as the sight of built-up dirt and grime can make people uneasy.
The Swanson Group Can Help You Buy Or Sell A Home In Omaha, NE!
If you hope to sell your home, take advantage of Bill Swanson's knowledge and expertise in Omaha real estate! We are prepared to help you show off your home's value and find buyers eager to make you an offer. If you have questions about buying, selling, or securing a mortgage, please call our Omaha, NE real estate group at 402-679-6566.