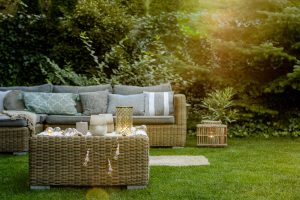 If you are searching for the right living space, or trying to make your current home more attractive, think about what the grounds outside the house can do for you. Yard spaces can be great for families, or for couples who want to enjoy cozy evenings under the stars. If you are not thrilled by your current yard, big improvements can be possible with the right projects. Our Omaha real estate group knows how valuable the right surroundings can be for home buyers. We can help you look for a location that has the right makings for a gorgeous backyard, or we can help you show off your outdoor spaces if you are interested in selling your home!
Adding Features For Outdoor Leisure
Even if your backyard is mostly a place for your kids to play, you may want to carve out some space for yourself. With the right planning, you can add a comfortable patio area even if you have a smaller yard. Take care to figure out where you want it to be located – the wrong choice can put you under the sun at times when you would like to lounge. Carving out a small section of the yard with paving stones can be enough to fit in pieces of patio furniture that give you a chance to dine al fresco whenever the mood strikes you.
Beautify The Front Of Your Home Through Gardening
It is hard to change someone's first impression of your home. For people who are thinking about selling someday, or for those who just want to impress their neighbors, gardening can add be a great way to show off your space! You can create color and variety by mixing annual and perennial plants in your garden space. If you want to do something eye-catching, consider adding flowering vines to a trellis – this can give you a wall of color in front of your home!
Improving Your Yard Space Can Make Your Property More Attractive To Buyers
Working on your yard space can be a great way to make your property more attractive. The right features can add beauty and comfort, which can make your space feel more desirable to others with similar layouts and square footage. One thing to be careful about is swallowing up too much of your backyard space. Leaving more open yard available can make the space attractive to families with younger children, or those who are planning to have kids.
Interested In Buying Or Selling A Home In Omaha? Talk To Bill Swanson!
Bill Swanson and our team can help you find a great home in the Omaha area, or sell a property you are hoping to put on the market. Because we have considerable experience with real estate in Omaha, we can make your efforts easier and more successful! To find out more, you can reach the Swanson Group by calling 402-679-6566.