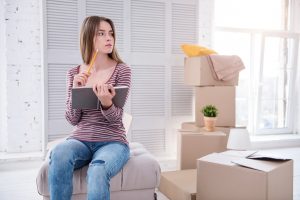 If you're a first-time homebuyer, congratulations! You've worked hard to get to this moment, and you're finally moving forward with a huge new chapter of your life. After all of the searching, and saving, and paperwork, you're ready to move in and take ownership of your new home. When you do so, you may be tempted to dive right into home improvement and customization — after all, it's your house now. Before you get carried away, be sure to check out this new homeowner checklist to avoid common pitfalls that snag first-time homebuyers.
Checklist Item 1: Don't Spend Too Much Too Soon
For most people, purchasing a home is a major financial decision that's going to deplete most of their resources. Money is probably going to be tight for a little while, especially as you adjust to your new budget. In addition to the cost of your mortgage, you've got added insurance and utility costs that you may not have had to account for in the past. Don't get carried away with home improvement spending and customization right away. Give yourself time to get used to the new space and determine priorities for the changes you'd like to make. This will give your bank account time to level out.
Checklist Item 2: Focus on Maintenance and Repairs Over Improvements
As you take stock of your new home and all of the changes you'd like to make, it's important to distinguish between home improvements and home maintenance. You may be eager to redo the upstairs bathroom, but there could be other maintenance issues that need your attention first. Focus on maintenance items before you get too involved with improvement projects. You want to make sure that the infrastructure of your home is in good shape before you start a complete makeover on the place.
Checklist Item 3: Get Help with Your Taxes for the Year
Purchasing a home can have ramifications that you haven't even considered yet, and one of those will most certainly be your taxes. Buying a home often changes an individual or family's tax situation and the deductions for which they are eligible. That also extends to repairs that you may make to your home. You'll want to work with a professional accountant — especially for the first year of returns — to make sure that you're getting your maximum refund, and that you're not missing any crucial components to your return.
Work with Bill Swanson to Buy Your First Home in Omaha, NE
If you're ready to make your first home purchase in the Omaha area, Bill Swanson is ready to help. Bill has over 25 years of experience in the real estate business, and he's an Omaha native, so he knows the area. Bill can help you weather the process of purchasing your first home. To get started on your first home purchase, contact Bill Swanson in Omaha, NE at 402-679-6566.