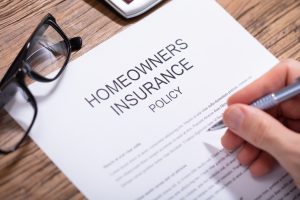 There are some life-defining highlights that come with purchasing your first home. You'll remember closing on the house, taking a picture outside, and of course, moving in. There is so much to be excited for when it comes to buying your first home, and that's why it's easy to forget about some of the minutiae. There are the closing costs, the paperwork, and even something like homeowner's insurance. If you get caught up in closing on a house, you may not remember to get all of those details lined up beforehand. Then, you may be in a position where you choose the easiest option, rather than the one that's best for you. What questions do you still have about homeowners insurance?
Is Homeowners Insurance Something I Legally Have to Have?
No, technically. Homeowner's insurance is not something that you are legally required to purchase, unlike car insurance. You can assume the liability of your own home, but if you're getting a mortgage, you almost certainly will need homeowners insurance. That's because your home is an investment, and the lending institution issuing your loan wants to know they can still get their money back if there's an accident. You'll want to be sure of that fact too. A home is the biggest financial commitment you're likely to make, and you want to protect against possible harm.
Will My Homeowners Insurance Cover Natural Disasters?
This answer can vary on where you live and the type of policy you choose. Most homeowners insurance policies protect against common disasters like fire, windstorms (tornadoes), hail, lightning, vehicle collision, and vandalism. You'll notice that natural disasters like earthquakes and floods aren't on that list. In many cases, you can purchase additional coverage against these disasters, and you may have to. Some lending institutions require you to purchase flood insurance if you live in a high-risk area.
Will My Homeowners Insurance Cover My Stuff?
Homeowners insurance covers your home. It's designed to protect you against paying for the damage caused by factors outside of your control. However, your homeowners insurance policy also covers the stuff inside your home. The amount of coverage allocated to your personal belongings is usually a percentage of your dwelling or loss-of-use limits. That being said, if you have a lot of pricey stuff inside your home, you may want to purchase additional coverage for that.
The Swanson Group Will Help You Through Homebuying
Buying your first home is a rollercoaster. While it's exciting, it comes with plenty of details to manage. The Swanson Group can help you stay on top of everything during the process. Our team has decades of experience and connections to trusted industry professionals who can assist you with homeowners insurance and securing a mortgage. Work with Bill, Chris, and Faith of The Swanson Group by contacting our Omaha, NE office at 402-679-6566.