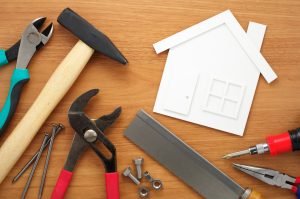 The new year is just around the corner — are you making any resolutions? You can stick with classic choices like, "I'm going to exercise more," or "I'm going to learn to play the guitar," but you may want to broaden your scope. While you're working on some personal resolutions, consider making some resolutions as a homeowner. A short list of resolutions can give you some goals to hit next year as you improve and care for your home. Here are a few options for manageable homeowner resolutions in 2020.
Resolve to Tackle One Home Improvement Project
One of the biggest obstructions to setting and achieving goals is managing expectations. When you start to create a list of goals, it can be easy to make a long wishlist. This is a good place to start: Get all of your ideas out so that you can evaluate the list. After that, you should make sure that your list of goals is actually manageable. When it comes to home improvement projects, you may want to change out the toilet in the bathroom, finish the basement, and add solar panels to your home. This is probably too much to tackle in one sitting. Instead, choose one home improvement project for 2020 and resolve to complete it.
Resolve to Keep a Home Maintenance Checklist
Independent of a major home improvement project, you should be keeping up with the maintenance of your home. This includes things like changing out your air filter(s), recaulking window and door frames, and implementing pest control measures. Keeping a weekly, monthly, and annual checklist of home maintenance needs can help you stay on track with caring for your home. Taking small steps frequently can also prevent the need for major repairs. These are often the result of overlooked home maintenance steps. Resolve to keep a maintenance checklist in 2020.
Resolve to Explore Energy Efficient Appliances
This resolution may fall under both the maintenance and home improvement project resolutions as well. Energy efficient appliances can save you a significant amount of money in utility costs over the long run. You won't start benefiting from those savings until you implement the energy efficient appliances in your home. Even if you're not ready to switch out your fixtures or appliances yet, you should at least explore the options this year so that you know what the value proposition is for your home.
If You're Buying or Selling in Omaha, Work with The Swanson Group
If 2020 is the year that you're resolving to buy or sell a home in Omaha, then work with the Swanson Group! Our team has decades of experience in the real estate business, and an extensive working knowledge of the Omaha area. We'll help you find the right home for you and your family. Start working with Bill, Faith, and Chris of The Swanson Group by contacting our Omaha, NE office at 402-679-6566.