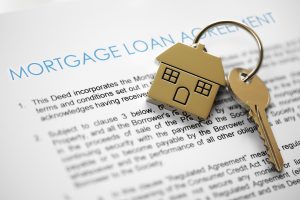 Mortgage "pre-approval" is called that because it's the step that you should take first in the home-buying process. Getting pre-approved for a home loan shows homesellers that you're a serious buyer, and it gives you the ability to move quickly when you find a home that you love. If you wait to get approved for a home mortgage, you could be left out in the cold when it comes to your dream house. Getting a mortgage pre-approval doesn't have to be a long, difficult process, but it is certainly one that you'll be glad you've completed when you start your home search.
Getting Pre-Approved for Your Mortgage Gives You a Budget
Finding a home mortgage provider ahead of time not only gives you the ability to act quickly when you find the right home, but it also gives you a starting point. If you start your home search without any guidelines, you may end up finding a home with features you don't really need, or you may fall in love with a home that is out of your price range. By getting a mortgage pre-approval, you set a price range for yourself based on the mortgage you will receive. This can keep expectations in check and help you narrow the home search.
In a Hot Housing Market, Pre-Approval Isn't an Option
If you're trying to purchase a home in an active housing market, then the homes are probably moving quickly. You have to be able to move quickly too. In this kind of environment, you can't afford to stall while waiting to get approved for a mortgage. You need to get pre-approved so that you can make decisions quickly and then act on those decisions. If you and another buyer are interested in the same home, and the other buyer has been pre-approved for a mortgage but you haven't, the other buyer is going to get that home.
Pre-approval Is Not a Mortgage Guarantee
It is important to note that a mortgage pre-approval letter is not an actual home loan. The financial institution that issues you the letter is not lending you money yet. You will still need to go through the process of setting up your mortgage once you move to close on the home. However, the letter does signal a vote of confidence. Having a mortgage pre-approval letter is a sign that you are a serious buyer who will be capable of actually closing on the home once you put in an offer.
Connect with The Swanson Group During Your Home Search
The Swanson Group is a trusted real estate team in Omaha. Whether you're buying or selling your home, The Swanson Group can help you make efficient decisions that put you in a strong negotiating position. Not only can this experienced team help you buy or sell a home, but they can also connect you with reliable home loan officers and staging professionals to help you with every facet of the process. Start working with The Swanson Group today by contacting the Omaha, NE office at 402-679-6566.