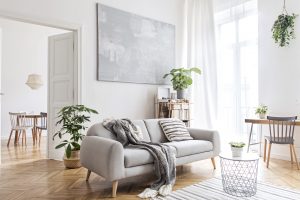 This is kind of a trick question, because the short answer is, all of them. If you see a feature noted as part of a home listing, then that feature is definitely being considered in the list price. That's why it's important to make a list of the home features that you absolutely need, the features you absolutely want, and features that would be nice to have. If a prospective home has quite a few home features that would be nice, but that aren't exactly essential, you may want to look elsewhere. You don't want to overpay for your home, and making sure you're not buying a bunch of frivolous features is a great place to start.
Make Sure You Know What You Want from Your Home
Deciding on your homebuyer wants and needs is one of the first steps that you should take when starting your home search (along with getting pre approval for a mortgage). Sit down with the other key decision maker(s) in the process and decide what matters most to you in a home. Do you need a backyard? How many bathrooms at a minimum would you like to see in your home? Know exactly what you want and need before you start looking at homes to give yourself clarity and to narrow the pool of homes.
When a Home Is Right, it's Right
Making sure that you know what home features you want is a smart decision, but it's not to say that you shouldn't move forward with a home that you really love just because it has extra features. If a home is right for you and it meets all of your major criteria, then it's right for you! You may not need some of the features included in the home, but the home may suit you for other reasons. Just because you don't need certain features doesn't mean you should stay away from the home, it's just important to know what you're paying for before you make your purchase.
Make Sure You Consider All of Your Home's Features When Selling
If you are selling your own home before purchasing a new home, make sure that you consider this information about features as well. If can be easy to overlook some of the selling points in your own home. You have the things you love and appreciate about your home, but you may not realize that someone else will find a particular floor plan feature or accent detail valuable! Be sure to work with a professional when creating your home listing to get the most out of your place.
Start Working with Bill Swanson to Find Your Home Today
If you're looking for a home in the Omaha area, Bill Swanson is here to help. With over 25 years of experience helping families buy and sell homes, Bill understands the process and the importance of this decision. Plus, Bill is an Omaha native, so he can help you determine the right neighborhood and living situation for you. Start working with Bill Swanson by contacting his office in Omaha, NE at 402-679-6566.