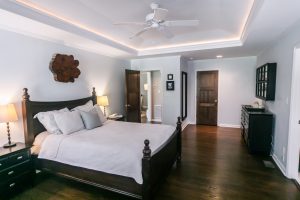 You work hard to be able to afford a home, and as the heads of the household, you deserve a nice place to lay your head every night. A master suite that features a bedroom, bath, and plenty of closet space can be a wonderful feature in your home. If your home doesn't already include a master suite, you may consider adding one with a remodel or addition. However, before you do so, you should also consider why you're making the decision. If you're excited about the lifestyle improvement that comes with a master suite, that's great, but don't expect the addition to cause a huge bump in your home's value.
Your Master Suite Is Most Valuable to You
As is true with many large home additions or renovations, the person who values it the most is probably going to be you. A master suite can add a lot of joy and utility to your life. The privacy, space, and the sense of retreat that you can create with a master suite are hard to quantify with a dollar amount. If you're excited about having a master suite and it makes sense with your prospective budget, then you should move forward with the project. You shouldn't expect this addition to necessarily cause the value of your home to skyrocket.
A Master Suite May Not Actually Bolster Your Asking Price
You should only take on a big home improvement project if you're excited about it, and if you're going to be in your current home for at least five years. The National Association of REALTORS released a "Remodeling Impact Report" that found that a master suite addition usually only leads to about a 52% return on investment. If you're planning on selling your home in the near future and you're looking for modifications that can help increase the home's value, start with smaller staging projects. Replacing fixtures and updating finishes can be a more cost-effective way to do this.
What Does Your Neighborhood Look Like?
Another determining factor that often gets overlooked when considering the value of home additions and renovations is the status quo surrounding your home. It's not only a question of whether or not the other houses on your block have a particular feature, but it's also a question of who lives in your neighborhood. If the demographic skews older, toward individual couples living nearby, then your master suite might not be a feature that prospective homebuyers are really after.
Work with Bill Swanson to Buy or Sell a Home in Omaha
Bill Swanson has decades of experience in the real estate business. He knows which features can help your home stand out, and which neighborhoods suit your needs best. Start working with Bill to buy or sell a home in Omaha. If you're beginning your search or the selling process, contact Bill Swanson in Omaha, NE at 402-679-6566.