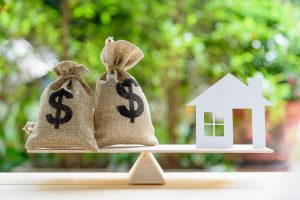 One of the perks of purchasing a home is that instead of just paying a monthly fee for rent, you're actually getting equity for your money. You're working toward owning the place where you live. Purchasing a home is a long-term plan, and your homeowner wants and needs can change over time. If you decide you want to take on a home renovation, you may consider financing the project using your own home. Refinancing your mortgage can free up the funds you need to move forward with the next phase of homeownership. But is it the right move for you?
Determining Whether or Not to Refinance Depends on Your Original Mortgage
Not every mortgage has the same loan terms. There are variations in the length of the mortgage and the interest rate. One of the advantages of refinancing your mortgage comes when you can get a lower interest rate. If you've paid down some of the principal amount of your loan, you may be eligible for a different rate. Let's say your original mortgage was at 6.5% interest over 30 years. After five years of paying it, you may be eligible for a lower interest rate at a shorter number of years. This can create the cash you need to take on a home improvement project.
You Need to Weigh the Costs of Refinancing Against the Gains
There are still typically one-time fees associated with refinancing your mortgage. Depending on the lender you are working with, those costs may drastically offset the gains of getting a lower interest rate for your mortgage. It's important to understand all of the costs associated with the project and what your true net gain will be. However, in some cases, refinancing can come with added benefits. If you needed private mortgage insurance for your original loan, but you've paid down enough of the principal on said loan, you may not need that insurance for your new mortgage.
You Should Also Ask Yourself if the Project Is in Your Best Interest
This can be the easiest part of the process to overlook! Again, homeownership is a long-term plan. If you don't plan on being in your current home for at least another five years, then refinancing your mortgage for a home improvement project probably doesn't make sense. If the project involves a cosmetic upgrade rather than a functional necessity, it may also be a bad idea. While home renovations can add value to your home, a lot of that value is personal, so treating the process like a pure investment isn't wise.
When You Need a Home Loan Officer, Talk to Bill Swanson
Bill Swanson is an Omaha native, and a trusted real estate agent with 30 years of experience. Not only can Bill help you buy or sell your home, but he can also connect you with reliable home loan officers for your mortgage. Start working with Bill Swanson by contacting his Omaha, NE office today at 402-679-6566.