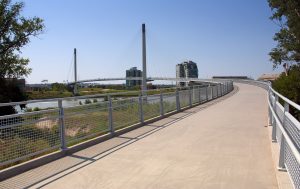 Whether you're moving for work, or you're looking for an exciting, affordable city to call home, Omaha presents a great option for people of all ages. There are family-friendly attractions, fun restaurants and bars, and captivating cultural touchstones all across the Omaha area. If you're haven't explored the Omaha area before, or if it's simply been a while, you'll be excited to discover all that the city has to offer. In today's blog, we wanted to touch on a few highlights around the area and get you excited to have an adventure in your own city.
Lauritzen Gardens and Botanical Center
Of course, everyone knows about the Henry Doorly Zoo — it's at the top of everyone's Omaha attractions lists. However, there are so many more places to explore around Omaha. You can have an amazing afternoon out at the Lauritzen Gardens botanical center. Take a ride on the tram tour to see the entire grounds, or explore on foot. There's a children's garden which is great if you've got little ones with you. The beautiful blooms and variety of plantlife at Lauritzen Gardens makes for a relaxing outing.
Joslyn Art Museum
Art museums are always a highlight, and Joslyn is no exception. From its permanent collection to the traveling exhibits, Joslyn has something for every art lover (or even every art kind of appreciator). The beautiful building and friendly staff make this a relaxing, comfortable destination for education and introspection. Works by Rembrandt and El Greco are musts for all audiences.
Heartland of America Park
Whether you're in town for a few days, or you're a permanent resident of Omaha, the HOA Park is a staple. This winding park runs right through the heart of Omaha and along the Missouri River. This is a relaxing place to go for a casual stroll, or to get a run in during the morning. It can be a destination, but the HOA Park is so pleasant, it's bound to become part of your routine.
Bob Kerrey Pedestrian Bridge
Another outdoor highlight for anyone in Omaha is the Bob Kerrey Pedestrian Bridge. This architectural eyecandy works great as a scenic backdrop, but it's even better as a walking trail. Crossing the Missouri River, this winding path gives you fantastic views, and a great way to stay active outdoors.
Moving to Omaha? Contact Bill Swanson
If you need to buy a home in the Omaha area, talk to Bill Swanson. Bill has over 30 years of experience in real estate, and he's an Omaha native who knows the area. Bill can help you find a home and neighborhood well-suited to you and your desired lifestyle. Start working with Bill Swanson by contacting his Omaha, NE office at 402-679-6566.