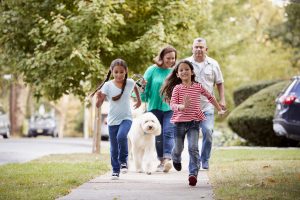 The house you choose is obviously an important part of buying a home, but so is the neighborhood you're choosing. The perfect house in the wrong neighborhood won't give you the experience you're after. You need to make sure you're moving to a place that suits your lifestyle and needs. You can read online guides to the hottest neighborhoods or look up nearby restaurants and amenities on Google, but the best way to get a sense of a neighborhood is to test drive it yourself. That way, when you make the move to buy a home, you can be sure your neighborhood suits you.
Build Your Own Personal Map of the Surrounding Neighborhood
Preliminary research can help you make a list of potential neighborhoods that you like, but actually experiencing these neighborhoods for yourself is important. You should build your own personal map of the area near the home you're interested in. Where is the nearest grocery store? Is it a grocery store at which you'd actually shop? Where is the nearest hospital? You can look these things up online, but until you drive around the neighborhood and get a very practical sense of what it looks and feels like, you won't know that it's right for you.
Speaking of Driving Around…
Another helpful piece of intelligence is information on the traffic patterns around your neighborhood. Again, a cursory Internet search may give you a number, but you should actually try it out for yourself. What's the neighborhood like at peak traffic hours? How much road noise do you hear at night? Is it easy to turn left out of your neighborhood at 7:30 AM? These details seem small, but they affect your every-day life, so it's important to know for yourself. Try cruising the neighborhood at different times of day and different days of the week.
Complete Additional Research on Your Neighborhood and the Nearby Area
Make sure that you've done all the research you can on your prospective neighborhood, because there are important factors that affect your fit in the neighborhood and the value of your home that you might not expect. You should look up nearby schools, even if you don't have children, because these can affect property values in the long term. You should also look up local crime statistics to get a sense of the neighborhood. Anything you research online won't give you a full picture of your neighborhood — you still need to visit in person — but it can help point you in the right direction.
Bill Swanson Can Get You on the Right Track
Real estate agent Bill Swanson is an Omaha native who has been helping families buy and sell homes in the area for over 30 years. That means that Bill knows the area neighborhoods inside and out. Only you can determine the perfect fit for your lifestyle, but Bill can point you in the right direction. Start the home search by contacting Bill Swanson in Omaha, NE at 402-679-6566.