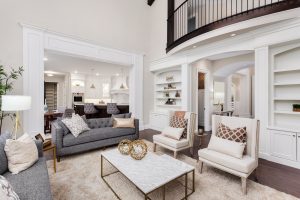 When you decide to sell your home, you want to sell it quickly and you want to receive the best price possible for it. Some factors, like market conditions, can be out of your control. You probably need to sell your home on a tight timeline and you can't just wait around for things to change. However, there are other factors that you can control, like the appearance and layout of your home. Proper staging techniques can showcase the highlights of your home and invite potential buyers to see themselves living in the space. So here are some more staging tips for selling your home.
Are the Major Rooms in Your Home Neutral?
Ideally, you won't have to put a ton of monetary resources into staging your home. You'd like to be able to repurpose and rearrange existing furniture, artwork, and accents to create the desired look. There are some staging specifics that may necessitate change though. The look and feel of the major rooms in your home should be neutral. Softer color palettes are more inviting and allow buyers to more easily envision themselves in your home. If you've got a color pop wall in your living room, it may serve as a great expression of your personality, but it may also be a turnoff to a buyer. 
Focus Your Staging Efforts in the Most Important Areas of Your Home
You want to be thoughtful about how you stage your home, but you also don't want to run yourself ragged. Focus the majority of your staging efforts on the most important areas of your home. The presentation of your living room and kitchen are far more important than the staging of a tertiary bedroom. Make sure the entrance of your home and the main staples receive most of your attention throughout the staging process. A masterful decoration of the bathroom in your partially finished basement might not turn as many heads as you'd hoped. Your real estate agent can help you understand which rooms deserve the most attention.
Maximize the Natural Light in Your Home, and Supplement Where Necessary
Everyone loves natural light! It inspires creativity, comfort, and gives your home a sense of warmth. Why have windows if you're not going to use them? When staging your home, be sure to let in as much natural light as possible. Consider adding a mirror or white surfaces to a room to help bounce more of that light around. Where necessary, you should also supplement this natural light with soft lamp lighting. There's nothing inviting about a dark, dingy space.
Work with Real Estate Agent Bill Swanson to Get Your Home Ready to Sell
Selling your home is a process, and having a partner in that process helps. Bill Swanson has been helping families sell homes in the Omaha area for over 30 years. Not only does Bill understand the Omaha area and market, but he also has plenty of tips and connections to help you with important details like staging your home. To start working with Bill Swanson, contact his office in Omaha, NE by phone at 402-679-6566.