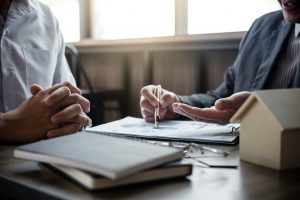 Efficiency is a must during the homebuying process, especially in a hot housing market. Right now, it seems like just about every housing market is a hot one — definitely Omaha. If you want to purchase a home in Omaha, you need to have your ducks in a row before the process even begins. If you visit an open house and fall in love with a property, but you don't have pre-approval for a mortgage, you have almost no chance of securing that home. Pre-approval is your first step in the homebuying process. To get pre-approved for a home loan, you'll need to work with a loan officer.
Find a Loan Officer that Listens to Your Goals and Needs
During the homebuying process, your real estate agent is a resource. Your real estate agent helps connect you with the homes that fit your budget and your list of needs. Your home loan officer should function in much the same way. When you meet with a loan officer, that person should listen carefully to your goals, needs, and restrictions as a potential homebuyer. If you've got a hard-cap on the monthly payment that you can make, your loan officer should know this. Your loan officer should also be able to advise you based on these guidelines.
Your Loan Officer Should Be Transparent Throughout the Process
Don't forget, your home loan officer is on your side. They want to pair you with the right house that you can afford. They want to set you up with a loan that will work for your financial situation and lifestyle. If you're a first-time buyer, the process can seem complex. Insurance, escrow, and closing costs — there are terms and conditions associated with the process that probably seem foreign. If you've got questions about fees and timetables associated with the homebuying process, your loan officer should be able to comfortably address those questions. Transparency is a must when dealing with such a major financial situation.
How Well Does Your Loan Officer Communicate with You?
Just like your real estate agent, your home loan officer should also be communicative. Having fast and clear lines of communication open with your loan officer makes it easy to get things done in a timely fashion. Does your loan officer reach out to you with questions or thoughts about your personal situation, or are you always the first one to make contact? Do you have to wait days for an email response, or does your loan officer get back to you quickly? These little things make a difference during a stressful process.
Find the Right Loan Officer for Your Mortgage
Who do you trust with your home loan? Bill Swanson can connect you with a trusted mortgage officer to simplify the homebuying process. For over 30 years, Bill has worked in real estate to help families buy and sell their homes. Start the process for yourself by contacting Bill Swanson in Omaha, NE at 402-679-6566.