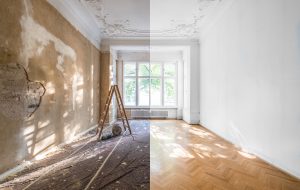 If you're planning on selling your home, you may consider doing a light renovation to a particular part of your home to increase its value. Before you start down that road, however, you should consider what level of value you can realistically expect the renovation to add. You should also consider whether or not the renovation is something that you'll appreciate. Sometimes plans change, and you don't want to make a financial and time investment that you wouldn't appreciate yourself. Before you start your next home renovation, make sure it's something that you want too.
Make Sure the Renovation You're Making Is Something Homebuyers Want
Researching homeowner wants and needs for homes in your area is an important step when selling your home. You want to be marketing the right features to prospective buyers, and if you're starting a renovation, you want to make sure that its adding value. Do buyers looking in your neighborhood want more counter space? Is natural light a priority for them? Would an open floor plan drastically increase the value of your home? You should know the answers to these questions before you start a home renovation.
Make Sure the Renovation Is Something You Want Too
If you're renovating a home that you just moved into, this may seem obvious. If you're simply upgrading your home then this is obviously your primary focus. However, if the intent of the remodel is to sell the home afterward, you should make sure that the renovation you're starting is something that you'd actually want for your home. Circumstances can change, and you may end up staying in the home, if not for the long haul, then longer than expected. You don't want to make some sort of drastic change to your home that you won't appreciate.
Here Are Some Renovations That Allow You to Recoup Expenses Quickly
You may not see the full value of your home renovations for years. The additions or remodels that you make will increase in value as the home itself does. In the short-term though, here are some home renovation projects from an Omaha World-Herald article that allow you to recoup expenses rather quickly. Refinishing hardwood floors was found to lead to a 100% recoup of project cost upon resale. Adding new wood flooring was found to lead to a 91% recoup in project cost upon resale. Upgrading insulation allowed for a 95% recoup in project cost. Make sure your home renovation is adding true value to your home!
For Help with Home Sales, Talk to Bill Swanson
Bill Swanson is a real estate agent that knows the Omaha market. Bill has helped families buy and sell homes for over 30 years, so he's prepared to give you advice as you try to get the most for your home. Talk to Bill Swanson about selling your Omaha, NE home by contacting the office at 402-679-6566.