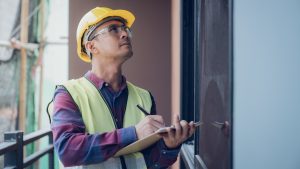 Home inspections sound tedious, but they're actually a vital part of the process for selling or buying a home. If you're looking to purchase a particular home, you'll want to have it inspected by a professional beforehand. The home inspection process can reveal any potential hazards or deficiencies within the home. If your inspection uncovers a problem, you can modify your offer or pull out from the offer altogether. Conversely, as someone selling a home, you don't want to have the rug pulled out from under you. You should know everything about your home before it hits the market.
If You're Selling Your Home, You Should Line Up an Inspection Right Away
Of course you want to get the maximum value for your home possible. You also want to sell your home quickly. The best way to do both of those things is by knowing everything possible about your own home. If there is an issue with your roof or foundation, you want to know about it well before you list your home. Lining up a thorough home inspection should be your first step. Then, you can make the proper repairs to your home to be sure that it sells quickly and for a fair price.
As a Homebuyer, You Need an Inspection Service with a Quick Turnaround
Your home inspection should be thorough. You want to know everything you can possibly know about the home you're purchasing. The diligence of your home inspector is important, but so is their efficiency. You also want a quick turnaround on your home inspection report. In hot housing markets, homes move quickly. You don't want to miss out on a home you really like because you fell behind on paperwork! Before selecting a home inspection service, discuss realistic reporting timelines with the provider.
Being Prepared Is the Best Step You Can Take When Buying or Selling a Home
Whether you're buying or selling a home, having a game plan is the best thing you can do to make the process easy. The amount of paperwork and legalease during the process can become annoying, tedious, and frustrating if you're not ready. Be prepared by taking steps like seeking preapproval for your home loan, staging your house, and lining up a trustworthy home inspector. You can still take these steps one at a time, but having a plan and timeline in place will prevent you from getting frustrated.
Bill Swanson Is Your Real Estate Agent of Choice
For over 30 years, Bill Swanson has helped families buy and sell their homes in the Omaha area. Bill can help you comfortably navigate the process of either buying or selling your home, and connect you with other knowledgeable professionals in the industry. Contact Bill Swanson in Omaha, NE at 402-679-6566.