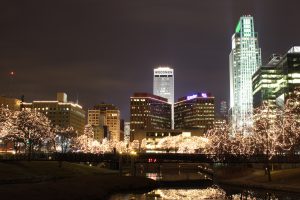 As metropolitan populations continue to grow around the country, the cost of living has risen steadily. Large markets are more expensive than ever, while the job opportunities in these places no longer outpace those in other areas. Value is important when you're searching for a house, and more importantly, a place to call home. There are many factors to consider when choosing a place where you'll raise a family, build a career, and establish a life. Cost, opportunity, safety, and culture are all important. It's time to learn how Omaha checks all of those boxes.
Omaha Boasts Many Career and Lifestyle Opportunities
Omaha has previously been thought of as a Midwestern flyover city, but the growth of this metropolitan has opened up many new opportunities for its citizens. The staple industries from the region still exist, but tech startups in the area have strengthened the local economy further. You can still find delicious, hearty steaks at a number of dining establishments, but you also have options for hip seafood restaurants and vegan cuisine. When you're considering job and lifestyle opportunities, Omaha has a wide selection available.
Find Strong Value in Calling Omaha Home
In addition to a wide range of opportunities in Omaha, you'll also find strong value as a homeowner here. That's because the cost of living in Omaha is lower than the national average, and so too is the cost of a home. In a national housing market that only seems to be ballooning, you can still find value in Omaha. That's a significant plus when searching for a place to call home. You want to know that the decision you're making now will yield benefits for you down the line, and homeownership in Omaha is much more attainable that it would be in a larger market.
You'll Be Able to Find Your Village in Omaha
Value, home ownership, and job opportunities are crucial factors in determining the place that you should call home, but more important than any of those factors is your lifestyle. If you aren't happy with the life that you can build for yourself in a place, then the rest of those things don't really matter. In Omaha, you'll find a mix of young professionals, university students, and families. Family-friendly activities throughout the city make it a great place for you and yours to grow. No matter where you are in your life, you can find your village within the Omaha area.
Bill Swanson Can Find Your Omaha Home
If you're ready to call Omaha home, then talk to Bill Swanson. Bill has been helping people buy and sell homes in Omaha for over 30 years. Whatever you're looking for in a home, Bill can point you in the right direction. Contact Bill Swanson in Omaha, NE at 402-679-6566 to get started today.