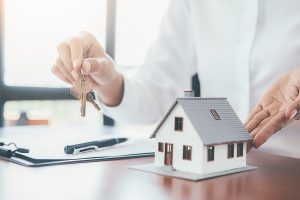 If you've never purchased a home before, you probably have a lot of questions and expectations. You may have heard numbers thrown around in regards to the credit score and need and the percentage of a down payment that you need to get started. While your credit score and down payment do play a role in the terms of the loan you receive, the criteria for buying a home may not be as strict as you'd think. You actually don't need to be the "perfect" homebuyer to purchase a property. You may already be ready.
You Don't Need the Perfect Credit Score to Purchase a Home
Many first-time homebuyers believe that they need a superfluous high credit score to purchase a home, and that isn't true. In fact, the average FICO credit score for approved loans has stayed the same or decreased in the last five years. You don't need a credit score in the 800's to purchase your first home. A demonstrated credit history and cosigners can help you build that score, but loan applicants with scores in the lower 700's can get approved for a home loan. While you don't need a perfect credit score to purchase a home, you should at least know what your credit score is as you begin the process.
Do You Need a 15% Down Payment to Secure Your Home?
First-time homebuyers can also be intimidated by the idea of a substantial down payment. You may be ready within the context of your life to buy a home, but with prices increasing, can you really secure 15-20% for a down payment? You don't actually have to. The average down payment for repeat buyers is 14%, while first time buyers average 6% as a down payment. Purchasing a home is a step toward equity that can grow over time, giving you the ability to choose a larger down payment in future home purchases if you so choose.
Rent Costs Are on the Rise, Making Home Buying Even More Appealing
The value of property is increasing, and while home prices are going up, so too are rent prices. The value of rental properties is increasing, and property managers are charging higher monthly rates. According to a Rent.com survey, 88% of property managers raised their rate in the last year. If you're going to have to pay to live somewhere, you might want to consider paying into a living space that is creating equity for you as a homeowner. Homeownership isn't strictly an investment, but it represents far more value than the cost of rent.
Talk to Bill Swanson About Finding Your First Home
If you're ready to purchase a home in the Omaha area, Bill Swanson is ready to be your real estate agent. Bill has over 30 years of experience helping families buy and sell homes in Omaha. Bill knows the area, and he can help you through the process as a first-time buyer. To start working with Bill on a home purchase, contact Bill Swanson in Omaha, NE at 402-679-6566.