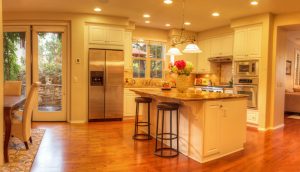 The homebuying process is at both times a wonderful, open-ended experience, and a tedious search for a needle in a haystack. In theory, you'll get to choose the perfect home of your dreams that comes in under budget. In practice, you'll likely have to compromise, and the process can be long. It's important that as you make your home wishlist, you think about the features that will actually use in your new home. Make sure you don't miss out on an ideal home for you and your family because you're being stubborn about a particular feature that you might not even use! Here are a list of features to consider as you search for your new home.
How Important Is the Size of Your Backyard?
A big backyard can be a strong selling point for many homes, and in some cases, a large yard has serious value. If you have pets that enjoy running and playing in the yard, this may be an essential feature for you and your family. However, your backyard does add to the total square footage of the property, and you are going to pay for that space. If you're looking for a large backyard with the hope that you'll turn it into a garden, or add a playground set, you may end up overpaying for a feature that you don't need.
Will You Use Your Gourmet Kitchen?
The kitchen is often a place where you see the best in yourself. Everyone wants an open, inviting kitchen where they can craft Top-Chef-calibur creations. Truthfully though, many people don't get the most out of gourmet kitchens. You may think to yourself, "If I had a huge kitchen with an island and a double oven, I'd cook all of the time." Maybe that's true, but that kind of idealizing can cause you to pay for features you don't need in your home. Think about your current lifestyle habits and find a home that suits them. Don't expect yourself to change just because your home does.
What Area Do You Need to Be Close to?
It's not just the features inside your home that you're paying for. You'll also be paying a premium for your location. If you're near a high-performing school, a popular commercial center, or a fun restaurant district, you're going to pay more for your home. That's fine, as long as those features are actually practical for you. If you choose a home blocks from a local elementary school when you don't plan on having kids, you're going to overpay for the property. Knowing all of the details about the home you buy before submitting an offer is key to paying the right amount.
Bill Swanson Can Help You Find Your Omaha Home
The home search can be arduous and time-consuming. Bill Swanson can help relieve your home buying headache. Bill has over 30 years of experience helping families buy and sell homes in the Omaha area. Talk to Bill Swanson about the features you want (and more importantly, need) in your next Omaha, NE home by calling 402-679-6566.