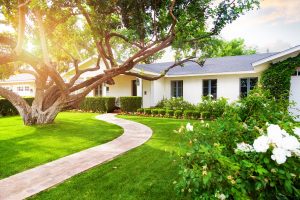 In almost all of life's adventures, getting your foot in the door is the first (and at times most difficult) step. When you want to sell your home, you need to get prospective buyers' feet in the door, literally. The best way to attract buyers to your door is with curb appeal. When your home catches the eye of real estate agents and eager homebuyers, you'll be more likely to develop leads and sell your home faster. Take advantage of these simple tips to help up your home's curb appeal as you begin the selling process.
Consider a Professional Washing for Windows and Siding
Many people wash their own home exterior — the siding, windows, and driveway. Many more people still have the intention of washing their own home exterior. However, over time, maybe you forget, or perhaps the chore list grows and you simply don't have time to do all that washing. Consider hiring a professional to thoroughly wash your windows, siding, and driveway at the start of the home selling process. Then, you can commit to maintaining the cleanliness in the future.
Make Sure Your Street Numbers at Visible
Everyone has had this happen to them at least once: You're going over to a friend's house for the first time and your GPS tells you you've arrived, but you can't find the street number. It's dark outside and you have to struggle to see the curb, or get uncomfortably close to the house to find the numbers. It's frustrating! Don't create that experience for a potential buyer. Repaint the street numbers on your curb and replace or reposition difficult-to-read numbers on the front of your home. Visibility is key.
Reevaluate Your Home's Landscaping Situation
You don't need a "Yard of the Month" calibur lawn to sell your home. The labor and planning that go into a full landscaping overhaul probably won't be worth it in the long run, but it is a good idea to reevaluate your landscaping situation. Remove or repair any eyesores (lawn ornaments are a no-no). Consider planting flowers if you already have flower beds, or replacing any sad greenery outside. Your lawn doesn't need to be perfect, you just don't want it to be a turn off.
Trust a Real Estate Agent to Help You Sell Your Home
To speed up the home selling process, you should work with a trusted real estate agent. Bill Swanson knows Omaha. For over 25 years, Bill has helped families buy and sell homes in the Omaha area. Don't let your home languish on the market, Bill can help you sell it. Contact Bill Swanson in Omaha, NE at 402-679-6566 to start the process of selling your home.