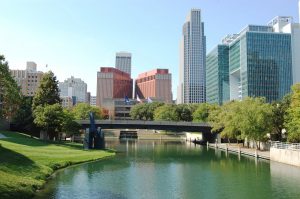 If you're an Omaha local, or you've searched for a home in this housing market, you already know that Omaha is one of the fastest selling real estate markets in the entire country. In fact, an Omaha World Herald article points to this market as being the fastest. That's good news for both buyers and sellers of homes — or at least, it can be good news. When the market moves quickly, you need to be able to act quickly. If you can't then you may miss out on the home you're looking for, or the ideal buyer for your home. In today's blog, we explore why homes are selling so fast in Omaha, and how you can be prepared.
A Healthy Demand and Limited Supply Have Homes Selling Quickly
A number of major markets across the United States are exploding with jobs and growth, but in many of those markets, the homebuilding industry is right behind the growth, or even leading it. Omaha has a more limited pool of homes for sale. That means that competition for these homes is fierce. Negotiations in Omaha don't last as long as they might on the coasts, so the houses that are for sale move quickly. Omaha's local economy also contributes to the housing market. Omaha is a hub for jobs, and this draws people into the metro area.
What Does a Speedy Housing Market Mean for Homebuyers?
The implication of a fast housing market may be pretty obvious for homebuyers. With a limited supply of homes available to you, you'll likely be competing against other buyers who are ready to close. That means you need to take steps like pre-approval to be sure you can act quickly when the time comes. Working with a professional real estate agent who knows the market is crucial. Despite needing to act quickly, you still want to make sure that your list of needs as a homeowner is being met by the house you choose. A real estate agent can make that happen.
How Do Fast-Selling Homes Affect a Home Seller?
The implications for home sellers in a fast-moving market may not be as clear. A limited supply of homes should mean that your home's value naturally increases. It should also mean that you don't have to wait long for your home to come off the market after it's listed. These things are true, but in a fast-moving market, if you act in the interest of speed, you may not get the maximum value for your home. Taking extra steps, like professionally staging your home, can help increase the selling price for your home. Again, working with a real estate agent will ensure you don't miss any opportunities.
Bill Swanson Can Help You Buy and Sell Homes in Omaha
Bill Swanson is a real estate agent with over 25 years of experience helping families buy and sell homes. He's an Omaha native who truly knows the market and the metro area. Bill can help you maximize the value of your home, and find the right fit for you and your family. Contact Bill Swanson about real estate services in Omaha, NE at 402-679-6566.